Stephen Wadhams
Born in Weymouth, England, in 1945, Stephen Wadhams joined the BBC in 1968. He spent 18 months as a volunteer broadcaster in Malawi, Africa, before moving to Canada in 1974 to join the CBC Radio program "As it Happens." He then spent ten years as a documentary producer for "Sunday Morning," producing many high-profile projects in Canada, the US, Europe and Africa. From 1990 to his retirement in 2016, Wadhams created radio documentaries for the CBC, helping colleagues and more than 200 members of the public tell their stories on the programs "Outfront" and "Living out Loud."
Wadhams has won numerous Canadian and international awards, including a Prix Italia and a lifetime achievement award from Chicago's Third Coast Festival, which described him as a "masterful documentarian" who has "earned worldwide respect as an innovative thinker, continually interested in expanding the boundaries of storytelling." He was also in demand as a trainer and mentor for the CBC and other organizations, including the BBC, where he spent three months in 1999.
Wadhams and his wife now live in Victoria, British Columbia, where he follows his other life passion as a voice student at the Conservatory of Music and a member of the chorus of Pacific Opera Victoria.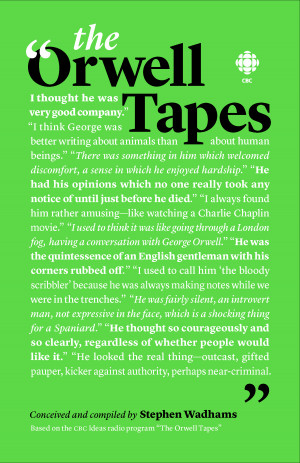 The Orwell Tapes
by

Stephen Wadhams
More than 70 people who knew him well remember George Orwell, the enigmatic author of Animal Farm and 1984 — two of the bestselling books of modern times — a brilliant, eccentric, complicated man. In the weeks after Donald Trump's inauguration, 1984 with its critiques of propaganda and doublespeak hit number one on the Amazon bestseller lists. The Orwell Tapes brings its author to vivid life.