Rick Stepp-Bolling
Biography
I've been writing poetry and fiction for longer than I can remember, but my money-making occupation was as a community college professor in Southern California. My life is currently filled with writing, golfing, and taking care of animals. My wife I look after a menagerie of rescue animals including dogs, cats, turtles, tortoises, horses, a pig and innumerable snakes. Some people think I draw my writing inspiration from my animal friends, and while that does ring true (especially from Penny, our rescued 500 pound Russian sow), life in general offers me enough challenges to inspire the slightly off centered approach to most of my stories. SMOKE AND MIRRORS, my collection of poems, and AUTOCIDE, my collection of short stories can be found on Amazon. PATCH MAN, the first in a fantasy series has been published by Crimson Cloak Publications.
Books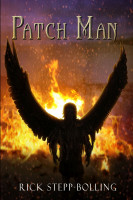 Patch Man
by

Rick Stepp-Bolling
An old man sells magical patches on the ruined streets of Hagra-Dis when a small, one-armed girl begs him to fix her doll. An Imperial missile blast kills the little girl, Meesha, but Var patches her back to life, and they flee marauding storm troopers. Pursued through a labyrinth peopled with powerful beings and monsters, it seems little Meesha is the secret key to ultimate victory and peace.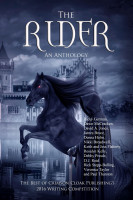 The Rider
by

Crimson Cloak Publishing

,

Ricky German

,

Dawn McCracken

,

David Alan Jones Jones

,

James Bruce

,

Denna Holm

,

nikki broadwell broadwell

,

Keith Flaherty

,

Jess Flaherty

,

Rosalyn Kelly

,

Debby Proulx

,

D J Reid

,

Rick Stepp-Bolling

,

Veronica Taylor

, &

Paul Thurston
The Winners of the 2016 Crimson Cloak Fantasy short story writing competition, along with a selection of the best runners-up, are presented here in a compilation volume entitled THE RIDER. Writers were asked to write a story of 1500-3000 words based around a stock picture showing a hooded rider in a fantasy landscape. Buy this book to read the cream of the crop.
Rick Stepp-Bolling's tag cloud