Steve B. Howell
Biography
Steve B. Howell is currently the head of the Space Sciences and Astrobiology Division at the NASA Ames Research Center following his success as project scientist of both the Kepler and K2 missions. He received his PhD in astrophysics at the University of Amsterdam and has over 900 scientific publications spanning research on variable stars, instrumentation, spectroscopy, and exoplanets. Steve has written or contributed to numerous scientific books, and his textbook on digital imaging detectors (CCDs) is the standard in college courses around the world. Working as the scientist in charge of the planet hunting Kepler mission inspired the creation of A Kepler's Dozen: a collection of short stories about real exoplanets, including Steve's first science fiction work. A frequent invited speaker at scientific conferences and public forums, Steve has a passion for sharing astronomy with people throughout the world. He lives in the San Francisco Bay area with his partner Sally and enjoys scientific challenges, the great outdoors, vegetarian gourmet cooking, and playing blues music. And yes, he still considers Pluto a planet in our solar system.
Where to buy in print
Books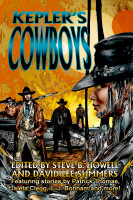 Kepler's Cowboys
by

David Lee Summers

(editor),

Steve B. Howell

(editor),

David Lee Summers

,

Steve B. Howell

,

Jaleta Clegg

,

L. J. Bonham

, &

Patrick Thomas
NASA's Kepler Space Telescope has discovered thousands of new planets. Visiting, much less settling, those worlds will provide innumerable challenges. The men and women who make the journey will be those who don't fear the odds. They'll be Kepler's Cowboys. Saddle up and take an unforgettable journey in this anthology of science fiction stories about planets discovered by NASA's Kepler mission.
Steve B. Howell's tag cloud