Steve Sonntag
Biography
Steve Sonntag is a retired teacher after having taught 32 years full-time at the high school level in California, 16 years part-time at the community or junior college in California, and 2 years part-time at the university level in California. He taught Spanish, German, Latin, English, and the Academic Decathlon. He was the high school teacher of the year in his district along with being a mentor teacher for 15 years. Since retiring in 2002, he has written "Teaching, The Hardest Job You'll Ever Love!" for teachers, "Learning, The Hardest Job You'll Ever Love!" for families, and now a sci-fi ebook "The Ill-Fated Earthlings". He is keenly aware of the strengths and the concerns of society, and that is why he has written all 3 of these books so far in order to address these challenges and to promote improvement. He hopes you enjoy his books as well as learn from them--yes, even from the sci-fi ebook which contains elements of the future laden dramatically with the issues of the present.
Where to find Steve Sonntag online
Books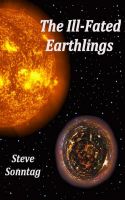 The Ill-Fated Earthlings
by

Steve Sonntag
"The Ill-Fated Earthlings" by Steve Sonntag is a compelling, science-fiction piece that critically explores the possible long-term ramifications of a self-indulgent, materialistic, and wasteful society. At the center of the story are three generations of a family that live through the deterioration of the Planet Earth -- from start to finish, as well as the unavoidable travels to new planets.
Steve Sonntag's tag cloud