SteveW55
Biography
Steve Wheeler was born in Blue Mountain Lake in New York State's Adirondak Mountains. He attended grammar schools in Baldwinsville, New York, and graduated from Solvay High School. Not ready to face college, he enlisted in the army and requested posting to West Germany. He served three years as a grunt in the 1/54th mechanized infantry, 1st Armored Division before transferring to a mobile nuclear missile unit. Wheeler's military experiences and travels in Europe sharpened his passion for history. After declining offers to re-enlist, Wheeler emigrated to Portland, Oregon and graduated with a Bachelor of Arts in English Literature.

Abiding interest in military history led to Steve's first novel. Based on actual events, Still In The Woods is a trilogy that tells the story of a group of American soldiers who become surrounded during the opening days of the Battle of the Bulge. They rally to a determined officer and continue to fight while eluding capture in the frozen hills and forests behind enemy lines.

Steve's latest novel, Persistence, is set in Portland, Oregon as is most of his fiction. The story takes place after the next Cascadia Subduction Zone earthquake devastates the Pacific Northwest. As of July 2019 it is in final editing stages..
Books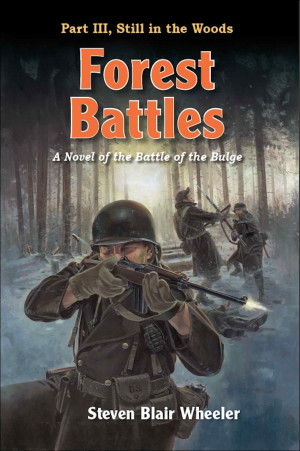 Forest Battles
by

SteveW55
The momentum in the Battle of the Bulge shifted as the Allies counterattacked. The fighting remained fierce both on the front line and behind the German lines. An audacious band of GIs take on the SS in the highest tradition of American heroism.
SteveW55's tag cloud