Steve Ward
Biography
After a career in laser science and spacecraft research, Steve Ward spent the last decade writing, editing and flying. He teaches Creative Writing at Brenau University and edits novels freelance. With one book published, Holy Enigma, University Press, he has won writing awards from Writer's Digest and NASA Innovations. Amid many articles published in technical journals, both his fiction books are adventures in aviation. Steve Ward lives north of Atlanta, Georgia on Lake Lanier at the foothills of the Smoky Mountains.
Books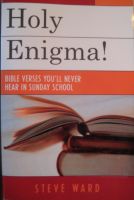 Holy Enigma! Bible Verses You'll Never Hear in Sunday School
by

Steve Ward
Do you know much about the Bible? Have you ever read this verse? Deuteronomy 25:11-12 If two men fight and one's wife tries to help by grabbing the testicles of the other man, her hand will be cut off without pity. (Living Bible) The Holy Bible is chock-full of fascinating, sometimes shocking and almost never discussed lexis, verse after verse you will never hear in Sunday School.
Steve Ward's tag cloud