Steven Zeichner
Biography
Steven L. Zeichner received his BA in Biology from the University of Chicago and continued his studies at Chicago, obtaining his MD and his PhD in Microbiology as a student in the Medical Scientist Training Program. He trained in Pediatrics and Pediatric Infectious Diseases at the Children's Hospital of Philadelphia. He worked at the National Institutes of Health for several years and now works at Children's National Medical Center, Washington, DC where he is Senior Investigator in the Children's Research Institute and Professor of Pediatrics and Microbiology, Immunology and Tropical Medicine, George Washington University School of Medicine. Dr. Zeichner studies the basic biology of HIV and Kaposi's sarcoma-associated herpesvirus, is working to find new ways to make vaccines, and is studying the relationships that link people with the microbes that make people their home. He also directs clinical trials that study new therapies for children infected with HIV. He is the author or co-author of more than 50 scientific publications, and is the editor of the first edition of the Handbook of Pediatric HIV Care (Lippincott Williams and Wilkins), the first edition of the Textbook of Pediatric HIV Care (Cambridge University Press), and the second edition of the Handbook of Pediatric HIV Care (Cambridge University Press). He lives in Bethesda, Maryland, with his wife, Rachel Moon, MD, also a pediatrician, and with his two daughters, Sarah and Elizabeth.
Where to find Steven Zeichner online
Books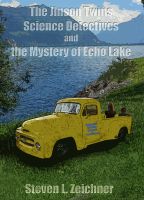 The Jinson Twins, Science Detectives, and The Mystery of Echo Lake
by

Steven Zeichner
(4.75 from 4 reviews)
Debbie and Joe, the Jinson Twins, aided by their friend, Mr. Benjamin, solve mysteries using scientific concepts. For children 10-13 years. Of interest to children, and to parents and teachers who want to teach science and math using fiction and integrated curricula.
Steven Zeichner's tag cloud