Steven D. Bynum
Biography
Steven D. Bynum lives in Central California. He is married and has two children and six neurotic cats. Innate curiosity has led him to work as a beekeeper, cattle rancher, youth-minister, behavior analyst, grant-writer, law enforcement consultant, well, the list is too long to complete. He's thrilled to add author to the list, and he thinks he may stick with that one for a while. For the last few years he's fought a debilitating disease which limits his ability to get out and about, but the upside is that now he has more time to write. For now he plans to follow his imagination and write the stories he finds there.
Where to find Steven D. Bynum online
Books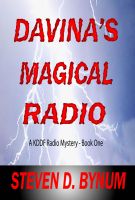 Davina's Magical Radio
by

Steven D. Bynum
Davina Gonzales doesn't think she's anything special. She and her friends Fabiola and DeBrina are like most seventh-grade girls in rural California. But her life takes a strange twist when she gets an old radio for her twelfth birthday. It runs without electricity or batteries, always plays her favorite songs, and warns her that if she doesn't solve a mystery her best friend will die!
Steven D. Bynum's tag cloud