Steven Grajek
Biography
I am new to writing in a professional manor, and hope this will be the first of many books to come. I went to school for visual arts and never really planned on making a career out of it. Now I am a freelance artist and author. I take my passions very seriously, in this case Pokémon! I have three Pokémon tattooed on my body in different locations and have followed the series since its initial release. Unlike many of the kids who play today, I watched the premier of the animated series when it came to the United States in 1997. I followed the updates of the release for this game and was very excited when approached to write this quick guide. Thank you all who have purchased this as it will inspire me to continue writing additional books.
Books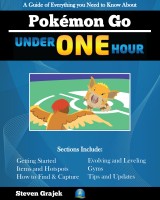 Pokemon Go Under One Hour
by

Steven Grajek
Welcome to the wonderful world of Pokémon. There are many of you who have already downloaded this game (over 100 million users!), some have even played a significant amount by now. In this guide we will go over everything you need to know to help you get started or to take your gaming to the next level.
Steven Grajek's tag cloud