Stewart Gill Owen
Biography
Born in Blackburn, Stewart grew up in Lancashire. After art school, his career was in design and advertising and as a lecturer in further and higher education. He now lives in Somerset with his wife Jessie, their two daughters often visit bringing the five grandsons with them.
Stewart is a keen historian and it is the most immediate and 'living' history that has inspired his first book Two Sons. Many of us still have links with the First World War. Stewart lost an uncle in Flanders and one of his ancestors was the poet Wilfred Owen. Something that happened so long ago, is in many ways still with us.
Books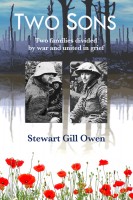 Two Sons
by

Stewart Gill Owen
In 1932, John and Annie Williams from England and Erich and Martina Lehmann from Germany meet in Belgium. They're visiting the graves of their sons who had been killed during the battle of Passchendaele in 1917. During the visit, confrontational events take place between the two families. The story moves from the battlefields of the western front the domestic life of the families over two decade.
Stewart Gill Owen's tag cloud