Storage Unit
Biography
Author Storage Unit Ript Off is a wonderful artist, writer and product developer who wants everyone to know that a storage unit is not a safe, secure or smart way to store your personal property. She has lost enormous amounts of personal property at a storage unit owned by avoidant Company X which has refused to be accountable, kind, and responsible. Their surveillance video cams didn't even work.

"Cherry-Picked" asks, "Was it an insider job?" You be the judge. Does anyone throw away good computers and beautiful art. FOR REAL.
Books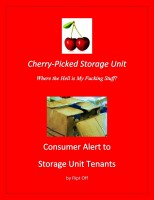 Cherry-Picked Storage Unit--Where the Hell is My Fucking Stuff?
by

Storage Unit
"Cherry-Picked Storage Unit, Where the Hell is My Fucking Stuff?" by Ript Off is a consumer alert. With storage company negligence and insider theft at an all-time high across the USA, think twice before you rent a storage unit. You may never see your personal property again! Author Ript Off recounts her self-storage nightmare in which no one was accountable and her things just went POOF
Storage Unit's tag cloud