StoyanStavru
Biography
Stoyan Stavru is a PhD of civil and family law (2008), PhD of modern philosophy (2015) and Master of Social and Legal Psychology (2010) - all in Sofia University Sv. Kliment Ohridski. Founder of the Professional legal site ChallengingTheLaw.com (on line since 2010) and one of the cofounders of the Justice development foundation (2011). He has organized three national conferences on Bioethics and biolaw (2013, 2014, 2015) and a cycle of 18 discussions "Bioethics and biolaw" jointly with the Centre for Culture and Debate Red House (2012-2014). Organizer and coleader (along with Irina Nedeva) of the rubric "In the new territories: law in the era of (hiper) technology"; which is broadcasted once a month at Bulgarian National Radio (for the period from January 2015 to November 2016 were broadcast 22 casts). He leads the following courses: at New Bulgarian University - "Medical law" (since 2009), "Legal problems of clinical medicine" (since 2009), "Legal problems in primary care" (since 2009), "Ethical Dilemmas in Health" (2016) and "Medical Future Studies" (2016); at Sofia University St. Kliment Ohridski - "Biolaw" (since 2010) and "Medical law" (since 2011). Author of two-volume edition "Visions in Pandora's Box. Biolaw", Sofia, 2014, consisting of two books: Book One - "Legal mythology of the human body. Fluctuations of legal personality", and Book Two: "Mutations in the human reproduction. Carnival death - legal aspects". Author of the monographs "A proprietary action of the death. Human corps before and after the funeral", Sofia, Sibi Publishing, 2008, and "The human body as an object of property rights", Sofia, Sibi Publishing, 2008.
Where to find StoyanStavru online
Books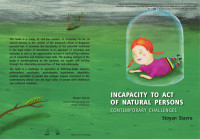 Incapacity to act of natural persons. Contemporary challenges
by

StoyanStavru
The book is a challenge to specialists in different fields: lawyers, philosophers, sociologists, psychiatrists, physicians, medical specialists. It would also intrigue anyone interested in the contemporary debate over the legal status of people with intellectual and volitional inabilities.
StoyanStavru's tag cloud