Natalya Strizh
Biography
Creative people - a bit peculiar , especially after the death . Some people go to heaven , the other - in purgatory . This circumstance greatly inflame their relationship . And when it comes to love, and in heaven ignite strasti.Za porogomzhizni righteous expect adventure , mystery , deep dramotizm , gentle lyricism and intimate secrets of life. And this novel is about how things work in the other world and what people live on it.
Books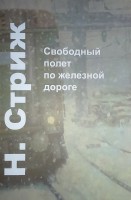 Свободный полет по железной дороге
by

Natalya Strizh
Творческие люди - немного своеобразные, особенно после смерти. Одни попадают в рай, другие - в чистилище. Это обстоятельство сильно накаляет их отношения. А когда речь идет о любви, то и в раю разгораются страсти.За порогомжизни праведников ожидают приключения, мистика, глубокий драмотизм, нежнейшая лирика и сокровенные тайны бытия. Как все устроено на том свете и зачем люди живут на этом?!
Natalya Strizh's tag cloud