Stuart Armstrong
Biography
A mathematician by training, Stuart Armstrong is a Research Fellow at the Future of Humanity Institute (FHI) at Oxford University. His research focuses on formal decision theory, the risks and possibilities of AI, the long term potential for intelligent life (and the difficulties of predicting this), and anthropic (self-locating) probability. Armstrong wrote Smarter Than Us at the request of the Machine Intelligence Research Institute, a non-profit organization studying the theoretical underpinnings of artificial superintelligence.
Books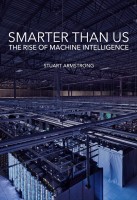 Smarter Than Us: The Rise of Machine Intelligence
by

Stuart Armstrong
What happens when machines become smarter than humans? Humans steer the future not because we're the strongest or the fastest but because we're the smartest. When machines become smarter than humans, we'll be handing them the steering wheel. What promises—and perils—will these powerful machines present?
Stuart Armstrong's tag cloud