Sujin.p Jose
Biography
M.Sc, Ph.D @ Suja Ravi Isaac, Educationist; b Kannur, Kerala, Educ. Kerala Univ., Trivandrum & ManonmaniamSundaranar Univ, Tirunelveli; Assistant Prof. of Physics; Madurai Kamaraj University, Madurai. She had 5 years of experience as Head of the Department, Department of Electronics and Communication Engineering, Vickram College of Engineering, Madurai. Publs–More than 25 papers published in various reputed International and National journals. Her research interests includesComputational Physics, Nanoscience and Biomedical Engineering. Currently she is working on nanostructured materialsand nanocompositesfor energy storage and biomedical applications and Quantum chemical investigation of polyatomic molecules. Address (Res) Mystical Rose, 34 - Ramnagar 2nd Street, S.S. Colony, Madurai 625 010 (off) Assistant Prof., Department of Computational Physics, School of Physics, Madurai KamarajUniversity, Madurai 625 021.
Books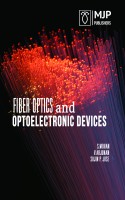 Fiber Optics and Optoelectronic Devices
by

S Mohan

,

V Arjunan

, &

Sujin.p Jose
This book deals with the fundamentals of light, fibers and fiber optics along with various types of fibers, lasers including the recent advances in lasers. Since optical communications is the current interest of this century, optical sources, detectors, optoelectronic modulators, optical amplifiers, fiber optic network components and optoelectronic integrated circuits are discussed extensively.
Sujin.p Jose's tag cloud