Kristie Newby
Biography
I have been happily married to my husband, Lynn, for over 21 years. We have a feisty beagle as a member of our family. I grew up on a 2,000 acre ranch in Oklahoma and have a love for God and agriculture. I graduated with my B.S. in Economics, Finance and Business Administration, hold my M.B.A., and am a Certified Fraud Examiner. I currently work as a Senior Auditor/Consultant for a higher education university, with prior experience as an Assistant Comptroller for a major cell phone company, a Financial Accountant for a large media conglomerate, Assistant Vice-President/Senior Auditor for a large financial institution, and a Budget Analyst/Procurement Specialist for the federal government. I am believe that many people would handle their money wisely if they only had the knowledge of how to do so. That is why I write financial books...to help others manage their money so that they can achieve their dreams.
Smashwords Interview
Books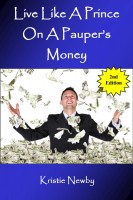 Live Like A Prince On A Pauper's Money - Second Edition
by

Kristie Newby
Most families today are drowning in a sea of financial debt. This is not usually due to a catastrophic event, such as a medical emergency, but from consistently spending more than they earn. The purpose of this book is to teach families to not only live on what wages they earn, but to live well on this money. One tip in this book used by the author yielded a $20,000 savings in less than a year!
Kristie Newby's tag cloud