Susan J. Kroupa
Biography
Susan J. Kroupa has a degree in music theory and has worked as a music reviewer, arts feature writer, and freelance journalist. She has published feature articles on topics ranging from Hopi Indian culture to environmental issues in The Arizona Republic, High Country News, and American Forests. Her fiction has appeared in Realms of Fantasy, Bruce Coville's Shapeshifters, Age of Reason, Bones of the World, and Beyond the Last Star. She is a first place winner in the Writers of the Future and the Deep South Writing Competition contests, and has also won awards in the Frank Waters Writers of the Southwest, Writers at Work, and the Utah Arts Council contests.
Where to find Susan J. Kroupa online
Books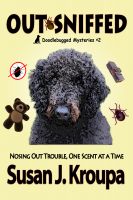 Out-Sniffed
by

Susan J. Kroupa
In his second adventure, Doodle's nose gets put to the test when Molly starts training him to find something very different from bed bugs to clear her best friend's brother from drug charges. But when Doodle fails a practice with the boss for an important certification, it takes all of Molly's ingenuity and Doodle's keen intelligence to sniff out the real villains and set things right again.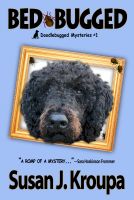 Bed-Bugged
by

Susan J. Kroupa
(5.00)
Ask Doodle why he flunked out of service-dog school and he'll tell you: smart and obedient don't always go hand in hand. Now he has a new job sniffing out bed bugs for his new boss, Josh Hunter. But when the boss's ten-year old daughter, Molly, needs Doodle's help to solve a mystery, Doodle's nose and Molly's camera lead them straight to danger.
Susan J. Kroupa's tag cloud