Swami Mangalananda
Biography
Swami Mangalananda is an American who first came to India in 1973 to meet Anandamayi Ma. He traveled with her and received spiritual initiation from her on the day he turned twenty years of age. Ma then gave him the name of Matriprasad, which means 'Mother's Grace'. He usually accompanied Ma on her visits to several ashrams, except when he was specifically bidden by her to go and meditate at Haridwar by the Ganges. In 2001, he moved permanently to India and lives in the Ma Anandamayi Ashram at Omkareshwar in Central India. He is the author of the book A Goddess Among Us, and also regularly contributes articles to spiritual magazines both in India and abroad. He teaches in the ashram school, and tours abroad for several months in a year giving bhajan concerts and workshops.
Where to buy in print
Books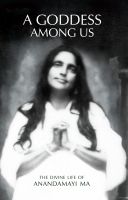 A Goddess Among Us: The Divine Life Of Anandamayi Maa
by

Swami Mangalananda
Anandamayi Ma was one of the most influential spiritual teachers of our time. Her devotees ranged from prime ministers to renowned saints to humble villagers. This short biography, written by a "dikshit" – a direct disciple of Ma, seeks to acquaint you with the sacred persona, inspired wisdom and the divine life of Anandamayi Ma.
Swami Mangalananda's tag cloud