Swami ShashwatJi
Biography
SwamiShashwatJi was born in 1985 in the Dhar district of the Narmada region in Madhya Pradesh. His parents named him "Krishna". By the grace of God, he repeatedly chanted the name of Lord Rama from the tender age of five. He started meditating for several hours every morning and every evening at the age of seven or eight.
At that time, he had three aims in life – to become a scientist, to serve his country or to search for the truth. From this young age itself, his interest grew in searching for new things and in serving others, but Swamiji also used to wonder if, after death, he would become a plant or a tree, an insect or a bug, a bird or an animal. When someone died in the village, Swamiji used to think, "This person has worked so hard, made a name for himself or herself, made money, and yet, he or she is dead. Will I also die like this one day? Will I also be cremated or buried?"
It became very clear to him that no matter how much wealth, respect or status one has, death is inevitable, and it is impossible to avoid this cycle of life and death. So, he turned his mind away from everything else and completely surrendered to the love of the divine. He would spend most of his time remembering the Lord.
Listening to stories about saints like Dhruv and Prahlad increased his longing so much that he too decided to go deep into the forest to do japa and meditation. He had heard that God protects his devotees in all places and in all situations, and he was sure that the Lord would also protect him. He has no knowledge of sacred texts, nor the company of holy men and saints, but only faith and trust in the Lord. At the age of fourteen, he left his home in the search for God.
Books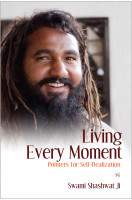 Living Every Moment : Pointers for Self-Realization
by

Swami ShashwatJi
"We are all looking for peace, but it eludes us because we believe that it comes from an external source. In reality, the peace is within us. It is the birthright of every living being to recognize the Self. Once is enough, and then It can never be forgotten. You must observe the mind's agitation, and expose the ego that makes you suffer; it is the main obstacle on your path."
Swami ShashwatJi's tag cloud