Toby Dobson
Biography
I currently live in Sydney and grew up in Adelaide, South Australia.
I have written all of my life, yet the 'Forest' is my first published work, with the second book of the series just recently finished.
Working full-time and being a single parent makes it hard to find time to write so I am pleased with how this work has progressed.
I studied languages with 3 majors to a final year (Spanish, French and German) as well as a second year of Portuguese. If you read 'The Haven' you will see some playful use of those languages with some of the names. For example, the name for the forest town, Penyon, is derived from the Spanish 'peñón', which means an outcrop of rock or crag but also is used in reference to island forts that are usually sit upon a mass of rock. Similarly, the name for Colonel Hakennase is derived from the German word for hooknose.
Books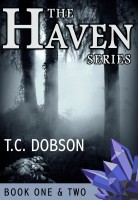 The Haven, Book One, The Forest and Book Two, The Journey
by

Toby Dobson
The setting is a parallel world, similar to our own yet with a few further advancements in technology. In this world there is a huge forest prison. On the outside, legends were told of the bandits within the forest and young children were told to stay away from the trees. Within the trees, bandits ran rampant, yet something completely unexpected also happened; organised societies developed.