Tom Crone
Biography
Tom Crone is a lifelong devotee of magic and judo. He began doing magic as a young man, did it professionally for several years as an adult, and has written articles for Magic, Genii, and The Linking Ring. He is the author of Misdirection for Close-up Magicians.
He began judo in college in 1960, co-founded North Star Martial Arts Academy in 1985, and attained seventh degree black belt ranking. He teaches for North Star and the credit class at the University of Minnesota.
He and his wife Shelley live in Minneapolis, Minnesota.
Books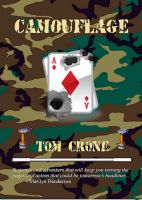 Camouflage
by

Tom Crone
His father taught him magic. His country taught him to kill. Ex-HALO jumper, Vernon Washburn is an exciting new hero for the new century. When he "retires" and opens a restaurant that features up-close magic along with fine food, he discovers he must do one last job that requires all the skills he wants to forget and stirs memories of the woman he can't forget.
Tom Crone's tag cloud