T. Hew Riter
Biography
Riter has written novels and stories for thirty years. Having served in Viet Nam as a Translator/Interpreter, He quickly adapts to new cultures and sees a story or an adventure everywhere. He has 'dabbled' in witchcraft, though he is not a witch.

All of his novels and stories have interconnecting threads that link them into a larger universe, spanning space and time. Some of the links are obvious, while others are very subtle.

Some of the events in the stories are based on real life, while others are pure fiction. The distinction between fact and fiction is up to the reader.

Growing up on farms in Kansas and Missouri, he has a wealth of knowledge relating to self-sufficiency. His time in Viet Nam taught him many survival skills that are combat-proven.

He sees the world as it is, not through the rose-colored glasses provided by politicians and the media.
Books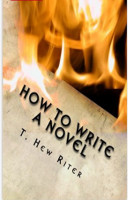 How to Write a Novel
by

T. Hew Riter
As an author of more than twenty books, I am often asked, "How do you write a book? Or more specifically, how do you write a novel?" This is an interesting question, but not one that can be easily answered. The obvious, and common response is to "Just start writing." And, of course, "Write about what you know." I use a slightly different method.
T. Hew Riter's tag cloud