T J Therien
Biography
T J Therien was born May 25th 1968 and grew up in the Greater Toronto Area. T J stopped breathing as a baby when the rings of his trachea constricted requiring a tracheotomy. T J had stopped breathing for long enough that his parents were warned that there may be significant developmental issues. T J struggled in school, dropping out of school at age fifteen, almost illiterate. T J taught himself to read and write. T J has worked in the Hotel Restaurant Industry, Warehousing and Logistics, Construction and a wide range of odd jobs as well as serving briefly with the 48th Highlanders. T J has battled though substance abuse and bouts of depression using writing as therapy. In 2002 T J relocated to the Eastern Townships in Quebec. In 2014 T J returned to Toronto where he continues to write.
Where to find T J Therien online
Books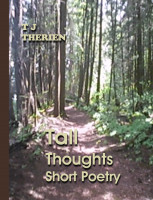 Tall Thoughts Short Poetry
by

T J Therien
Little pearls of profundity that explore the beauty of nature and the nature of people are strewn across the pages in 91 short snippets. Brevity and gravitas are on full display in this collection of verse. Poet and Author T J Therien displays a mastery of short form and Tall Thoughts Short Poetry is a welcome addition to the thinker's library.
T J Therien's tag cloud