T.L. Dayen
Biography
T.L. Dayen is a California native who has also lived and schooled in Oregon and Hawaii. Dayen is a graduate with Distinction from UH in political science and psychology. Dayen holds a Black Belt in Shaolin Kung Fu and has studied the Martial Arts and Eastern philosophy for over 12 years and co-founded the first Chinese Shaolin Center Los Angeles chapter. She is certified in Mediation and has worked in Secondary Education as well as urban youth development and conflict management. She has traveled to 19 continental states, including the entire North and South West and 13 New England states in around the Eastern Seaboard. Dayen has also traveled extensively throughout Asia including Beijing, Canton and several interior provinces of China; also Indonesia, Singapore, Thailand and Hong Kong. T.L. Dayen is also co-author of The Female Imperative; an unedited Manifesto for Female Emancipation and the Evolution of Human Consciousness which she and her co-author are in the process of getting published.
Where to find T.L. Dayen online
Books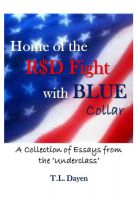 Home of the R$D Fight With BLUE (collar)
by

T.L. Dayen
A thoughtful and informative expose' on the rise of the Tea Party and the 'politics of greed' and obstruction. Chronicled in real time by a member of the '47 percent', these essays are meant to inspire the political junkie and novice alike.
T.L. Dayen's tag cloud