T. N. Harvey
Biography
I love drawing, painting, cupcakes, cherries, skulls, zombies and anything to do with Halloween, tattoos, (I love love tattoos) rockabilly, roller derby, chocolate, books and alternative and rock music. My favourite bands would have to be Evanescence, Paramore, Coldplay and Evermore which I listened to a lot while writing this book and doing any of my artwork, of course having it playing very loudly…
I am an Australian and lived in Queensland, Australia with my American husband and two gorgeous boys but we have now relocated to Ohio, USA which is where my husband is from to start a new adventure…
Books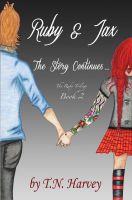 Ruby and Jax: The Story Continues…
by

T. N. Harvey
Price:
$4.99 USD.
Words: 93,250.
Language: Australian English.
Published: March 24, 2014
. Categories:
Fiction
»
Romance
»
General
After the death of Ruby's father, Jax became Ruby's rock, helping her through the hardest time she has ever had to deal with in her life. Ruby gave herself over to Jax, letting him in and opening herself up more than she has ever done before. But Jax wants more… Will Ruby be able to give Jax what he wants? Or will Ruby return to her old ways and close Jax off from her heart forever…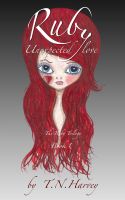 Ruby: Unexpected Love...
by

T. N. Harvey
Everything in her life changed when she met Jax. They came from different lives, but the connection between them was too powerful for either of them to ignore. She began to trust him like she has never been able to trust before, letting him see the REAL Ruby. As Ruby battles with her inner demons, a life changing event happens to her that could bring her and Jax closer or tear them apart...
T. N. Harvey's tag cloud