Teresa Smith
Biography
WHO AM I

Fact 1: Teresa R. Smith
Fact 2: Created by God
Fact 3: Human Being
Fact 4: Female
Fact 5: Black American
Fact 6: Daughter of Jo & Terry (Guess which one is which?)
Fact 7: Youngest of two sisters
Fact 8: Mother of 1 son, he would probably get mad if I mentioned his name.
Fact 9: Single Heterosexual
Fact 10: Forty Something
Fact 11: Zodiac: Cancer
Fact 12: Born in East St. Louis, Illinois. raised in Pontiac, Michigan

Religious Belief: GOD

A FEW THINGS THAT I LOVE: Laughing out Loud Uncontrollably, Boots & Shoes (what girl doesn't), desserts (mostly cake), sex &/or making love (don't judge me, when I'm with the one I love making love or having sex are both good), Lots of Clothes in the Winter, Little Clothing in the Summer, Poetry, Old School Love Songs, My Alone Time, and last but not least; Love. I Love Love and I Love to Love.

THINGS THAT I DON'T LOVE SO MUCH: Politics, Prejudice, Injustice, War, Tradition, Pain, Abuse, When I Say things Without Thinking, Heartache, Horror Films and Monthly Nature Visits.

WHAT ALL MY FRIENDS KNOW ABOUT ME: I have strong opinions about most things and I am usually very blunt. I am a big wuss although I appear to be very tough.
Books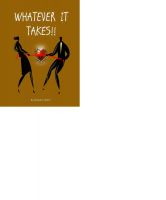 Whatever It Takes
by

Teresa Smith
Price:
$3.99 USD.
Words: 45,570.
Language: English.
Published: November 24, 2013
. Categories:
Fiction
»
Romance
»
Adult
It's a story about African American couples who maintain their contemporary relationships in unconventional and or unusual ways.
Teresa Smith's tag cloud