Kirk Phillips, CPA, CMA, CFE
Biography
Kirk Phillips, aka the TheBitcoinCPA, is an entrepreneur, Certified Public Accountant (CPA) and a self-taught woodworker—an artist in all areas of life. He brings the same attention to detail necessary for creating finely crafted furniture into the business world. He is passionate about technology, business processes, fraud prevention, time management, learning and peace of mind. Kirk discovered Bitcoin at the end of 2013 when a friend asked for advice, saying, "My husband and I want to invest $800 in a computer to mine bitcoin and make some money. What do you think?" to which he responded, "I don't know anything about Bitcoin, I'll have to get back to you." This simple inquiry led him down the Bitcoin Rabbit Hole, an experience described by many Bitcoiners, and ultimately gave birth to The Ultimate Bitcoin Business Guide. The Bitcoin journey has magnified Kirk's commitment to helping business get done with greater ease and transparency at all levels. Kirk brings more than 15 years' experience working in public accounting while also working in private industry and with business owners and individuals. He has launched multiple businesses, including invizibiz.biz a virtual accounting and back office subscription service. Because of his desire for continuous learning and development (and a slightly obsessive approach to everything that interests him), Kirk became DCC Certified with the Digital Currency Council and also earned the Certified Bitcoin Professional (CBP) designation issued by C4, the Crypto Currency Certification Consortium. He earned a Certificate of Completion from the University of Nicosia, Introduction to Digital Currencies MOOC Course. He has also authored several articles about Bitcoin. Kirk holds additional designations as a Certified in Financial Management (CFM) Certified Management Accountant, CMA Certified Fraud Examiner (CFE) and a Charted Global Management Accountant (CGMA). Kirk has immersed himself in bitcoin and is currently one of only a handful of qualified CPA strategic advisors in the bitcoin and cryptocurrency space. He weaves risk management into business process outsourcing and also provides crypto business consulting and education. You can contact Kirk on twitter @TheBitcoinCPA.
Where to find Kirk Phillips, CPA, CMA, CFE online
Books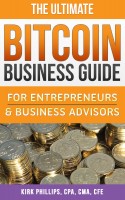 The Ultimate Bitcoin Business Guide: For Entrepreneurs & Business Advisors
by

Kirk Phillips, CPA, CMA, CFE
Bitcoin is our modern day financial super hero. For the first time, people have choice and control when it comes to money and finances. Bitcoin will transform money the way the Internet transformed commerce—and that's just the beginning. It will magnify the "adapt or die" global game of business, creating more organizational transformation and more extinction than any other time in history.
Kirk Phillips, CPA, CMA, CFE's tag cloud