Tamarin Rand
Biography
The Author has lived in Manitou Springs and regularly attended the Coffin Races for almost a decade. Originally from Manhattan she is no stranger to the diversity of people and places and yet not a day passes by while living and working in Manitou that she doesn't encounter a strange situational anomaly demonstrating the weirdness of Manitou life. She remains a outsider by Manitou standards by constantly witnessing Manitou's weird happenings and thinking to herself "Now, that's just plain weird! I should know better, after all it's Manitou!"
Since this writing two new characters have made their presence know in Manitou. Tricman can be seen in the late afternoon, struggling to ride his tiny child-sized tricycle up and down Manitou Avenue with an apparent invisible mission while in Soda Spring Park a gray bearded "Guru" clad in orange robes, counsels a growing number of Lattest gathering on Saturdays in the shade of the Pavilion to listen to his wisdom.
Books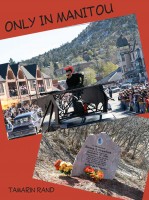 Only in Manitou
by

Tamarin Rand
A fun-filled tale of the antics of an oddball but endearing cast of characters living in a small Colorado town where everybody knows everybody's business. The story depicts how these comedic personalities unite to solve a mystery and perhaps save a little boy's life. Discovering the past influences the present they use magic, greed, lust and imagination to achieve an all together weird conclusion.
Tamarin Rand's tag cloud