Tamryn Ward
Biography
Tamryn Ward is the alter-ego of USA Today Bestselling erotic romance author Tawny Taylor. Tamryn is an Amazon bestselling author of New Adult/Mature Young Adult fiction. She turned to writing after deciding being an engineer without an engineering degree wasn't a great way to make a living. Writing, on the other hand, is her passion, especially writing romantic stories with an edge. She has an absolutely useless bachelor's degree in Liberal Arts, and when she isn't writing, she spends her time hiking in the woods with her (not so cooperative) husband and kids, and snapping photographs of anything or anyone willing to sit still long enough for her to get a decent shot. She's still a little slow with the photography thing. Thus, her favorite model is, of course, the slug--though you would be surprised by how fast those little buggers can move.
Books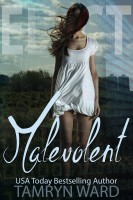 The Elect: Malevolent
by

Tamryn Ward
For twenty girls and boys, the Elect is the chance of a lifetime--the opportunity to not only escape a life of backbreaking work, pain, and hunger but to save their families from that life too. But for Eva Pearson, being selected as a member of the Elect means sacrifice. It means pain. It means danger. And possibly death.
Tamryn Ward's tag cloud