M.D. Taverner
Biography
I was bit by the writing bug way back in 5th grade when I won the Young Authors' contest at school (still gives me chills to this day!) I was a "closet writer" of poetry in high school and in college I wrote for the University of Michigan literary journal (mostly angst-ridden, secret crush poems that will hopefully never see the light of day!)Writing has always been something in the background that I never really mention, but love. I entered a few contests and even got a few "Runner Up" prizes, like an ABC After School Special television script (remember those?) and a Writer's Digest rhyming poetry "honorable mention." So, in my late 20's I started writing a mystery novel in a night class held at Schoolcraft College and forgot about it until after I had my son 3 years ago and had the irresistible urge to write. Thanks to a supporting husband who tolerated many trips alone to Panera with my laptop and some obscure goal to finish the book, I did it! Right now, I'm smack dab in the middle of a Young Adult novel that has me by the heart! It's under consideration by a literary agent (woo hoo!) so cross your fingers. Hope you enjoy my first endeavor, Willow Bend. Thank you!
Where to find M.D. Taverner online
Books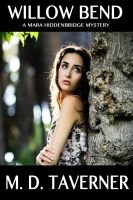 Willow Bend: A Mara Hiddenbridge Mystery
by

M.D. Taverner
Life imitates art when a film critic for a small-town midwestern newspaper finds herself unwittingly cast in the center of a conspiracy and search for a killer with more twists than any movie she's ever seen.
M.D. Taverner's tag cloud