Tawanna Heywardbey
Biography
Tenacious, dynamic, passionate, fearless, experienced leader are some words you will hear to describe Entrepreneur Tawanna Heyward-Bey. She began her career as an Entrepreneur after spending twenty plus years working in Non-Profit organizations and Corporate America.
She has had notable contracts with companies like Bombardier Transportation, DFW International Airport, Follett Software, Blumberg Excelsior, Molina Healthcare, North Texas Tollway Authority and many others.
With contracts in the public, private and government sectors; Ms. Heyward-Bey strongly believes that building and growing your business into the millions "can be done" and is often quoted as she shares this message as a public speaker, advocate and expert trainer for Small Business Enterprise owners across the country on the certification process.
Books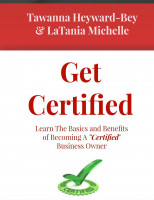 Get Certified: Learn The Basics and Benefits of Becoming a Certified Business Owner
by

LaTania Michelle

&

Tawanna Heywardbey
Certification is one of the fastest and most effective ways to accelerate your business growth. Certification can also be the key that opens the door for your business to begin partnering with corporate clients and government entities. In this book Tawanna Heyward-Bey and LaTania Michelle discuss how to identify if small business certification is right for you and how to get started if it is.
Tawanna Heywardbey's tag cloud