Carrie Ives
Carrie Ives is an avid writer, photographer and reader. She enjoys fiction, science fiction and fantasy and finds much of her inspiration in the pictures that she takes of the world around her. More at home behind, than in front of the camera, it must be said that very few pictures of this camera shy artist are available, but she is more than happy to share her photographic view of the world instead.

When she isn't writing or taking pictures, she works as an income tax preparer and a blackjack dealer at one of Harrah's properties in western North Carolina. Her written accolades include a piece of flash fiction in the May-June issue of the e-magazine Down in the Dirt and a 15-year stint as a creative writer and regular contributor to a Star Trek based fan fiction website, USS AUDACIOUS 60650.

Carrie doesn't just dream in the vivid, living colors of her fantasy worlds; she is married to a Leprechaun and has three fairy daughters with four brave princes and one enchanting princess for grandchildren. Friends and family make up the spice of life, so drop her a line at tehklah13@gmail.com. Or just stop by the toadstool for a cup of tea, the caterpillar will let you in.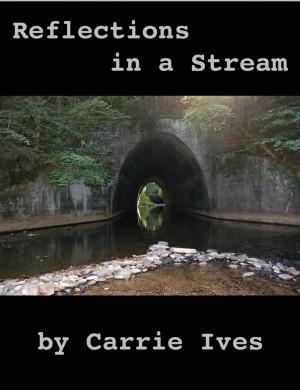 Reflections in a Stream
by

Carrie Ives
Have you ever lived with a leprechaun? It isn't easy. But then life isn't easy, is it? Challenges mold us into the person we will be tomorrow. And time, like water in a stream, shatters reflections into a myriad of sparkling shards. Each of these stories reflect a social or moral challenge, a tiny reflection of what it is to be alive.