Teresa Meehan
Biography
Teresa Meehan, PhD is the owner of Life Coach Plus, LLC in Albuquerque, New Mexico. Prior to owning her coaching business, Dr.Meehan owned and operated a mental health agency and served as Associate Professor of Linguistics and Psychology at New Mexico State University where she was awarded the prestigious Donald C. Roush Award for Teaching Excellence and National Institute for Staff and Organizational Development Excellence Award. She has published several academic articles in peer-reviewed journals on such varied topics as functional systems and cognitive pluralism, creativity and collaboration in knowledge construction, prenatal substance exposure and the effects on dyadic interactions, and the role of metaphor in the narrative construction of collaborative experience. Dr. Meehan is a certified Master Practitioner of NLP, Time Empowerment, and Hypnosis by the Association for Integrative Psychology.
Where to find Teresa Meehan online
Series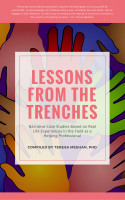 Lessons from the Trenches
by

Teresa Meehan
The case studies presented in this series bring to life some of the vulnerabilities of the human experience during crisis situations. They offer a starting place for professional discussions about how we can best contribute to a movement of compassionate intervention. Each case study is followed by two sections. The first section, "Lessons Learned," highlights at least one particular area of the case that stands out as informational, transformational or both. The second section, "Thought Questions," are intended to provoke further inquiry and discussion. The best way to learn from case studies is to ask all the "why" questions you can imagine because any and all eventualities are possible in the trenches. The primary goal for presenting these cases in this manner is to encourage all varieties of helping professionals (Social Workers, Nurses, Case Manager, Mental Health Professionals, etc.) to gain a new appreciation for what it means to allow yourself to be vulnerable, a skill that is necessary for the development of empathy and compassion.
Books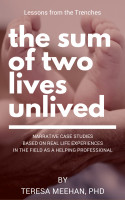 The Sum of Two Lives Unlived: Lessons from the Trenches Case Studies Series
by

Teresa Meehan
This is the first volume of the Lessons from the Trenches case study series. It is narrative account of two real-life cases that occurred at a small, rural hospital involving the preterm delivery of two babies between 26-28 weeks gestation. Each account is followed by two sections: Lessons Learned and Thought Questions. The focus is on the ways to foster empathy and compassionate intervention.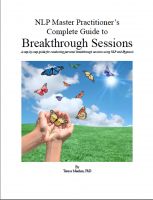 NLP Master Practitioner's Complete Guide to Breakthrough Sessions
by

Teresa Meehan
(5.00 from 1 review)
A step-by-step guide for conducting personal breakthrough sessions using NLP and Hypnosis. The purpose of this interactive guide is to facilitate the flow of a breakthrough session by enabling you, the Master Practitioner, to focus more on the client and less on your notes. You will be able to move back and forth through the various sections of the breakthrough easily and effortlessly.
Teresa Meehan's tag cloud