Stamatis Stamatopoulos
Biography
I am not an author by profession but my work takes me all over the world and in my 16 years of personal experience and research, Thailand for me is the jewel of south-east Asia.
In 1999, I was first introduced to Thailand by a friend of mine.
Couple of days after my arrival in Bangkok I thought, what really am I doing here?
The smog, the smell, the unrelenting heat, the incredibly poor to horribly deformed, the corruption.
WOW! I wanted to turn around and go back home. Then my friend who had been there before said to me, give it a chance and don't try to compare this country with the west.
I guess that is the mistake that most people make and I was one of them, it didn't take long to learned how to appreciate it's vitality and excitement.
When I went back home, for some reason Thailand was still in my mind and since then I've visited every single island, city, village and tribe, keeping notes about anything that got my eye.
Books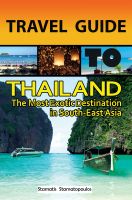 Travel Guide To Thailand
by

Stamatis Stamatopoulos
(5.00 from 1 review)
This is a complete travel guide with pictures and maps, and the only guide needed to prepare and benefit all future travelers to enjoy their traveling experience to this amazing country in South-East Asia.
Stamatis Stamatopoulos' tag cloud