Moth Harris
Biography
Moth Harris is my pen name. My real name is Timothy, but as Tim Harris is such a common name I had to come up with something more noticeable. So I took on the nick name Moth from tiMOTHy. Writing was my dream when I was a teenager. Now in my mid to late twenties, I haven' written as much as I'd like to, maybe I'll give it another go.
Books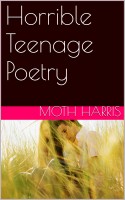 Horrible Teenage Poetry
by

Moth Harris
A compilation of my teenage poetry, over 100 pages worth. Some of it's good, some of it's horrible, but all of them shine a little light into my teenage self. I figure someone may enjoy my past work, so why not put it out there?
Moth Harris' tag cloud