S.F. Clawson
Biography
S.F. Clawson is a cool uncle whose amazing nieces and nephews have taught him so much about happiness and life. Who knew that getting puked on could be so much fun?

Having lived in 7 states--and visited almost all the rest--he has also learned a tremendous amount from many other types of people. The most important thing he's come to understand is that we are more alike than we are different. We all hurt, we all experience joy, and we all have aspirations. He wishes that you will follow your heart, and believes that if you do, you'll give more back to your family, friends, and community than anyone could have dreamed.
Books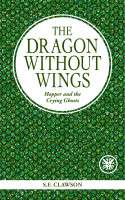 The Dragon Without Wings: Hopper and the Crying Ghosts
by

S.F. Clawson
Hopper is the first dragon to ever be born without wings. When his best friend gets sick, and there's no medicine to heal her, he decides to set out for the cure. But there's a big problem, he has to get over the mountains, which no dragon has ever done. With a little ingenuity, and a lot of help, he heads out on the journey of a lifetime. Will he be able to save his friend?
S.F. Clawson's tag cloud