Daniel Pyrah
Biography
I am new to this writing books and short story scene so I will be a bit rusty at first I hope. I'm Daniel, I live up North with my family. I'm only doing short mini stories until I finish my book of then. I don't know. I will see what happens after that.
Smashwords Interview
Books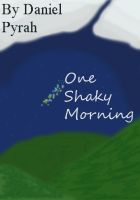 One Shaky Morning
By
Daniel Pyrah
Price: Free! Words: 1,830. Language: English. Published: February 23, 2014. Category: Fiction
(2.50 from 2 reviews)
A small town girl who is lonely and scared wishes upon a falling star.
Daniel Pyrah's tag cloud