Derrick Reese
Biography
A native of Charleston, South Carolina born and raised I have been Blessed to overcome many difficulties and it's still happening to this day down to this book. I always desired to publish a writing but life can sidetrack us so much but there are time when a writing can gather the hurt and pain, the joys and sadness and place them before the world in book form. Within this and writings to come I hope that I can bring Light, Love and Strength to those who have fallen and are looked down on in society.

I have been married to a Goddess for 14 and a half years now and we have six children. They have been such a Grace and Blessing for my life, saving me in so many ways. Many ask what is my belief and what are my social and political thoughts and opinions. Well stay tuned I will explain them all in the book to come very soon. I will answer one of those, I do not believe in Religion. Yet I am a child and worshipper of GOD ALMIGHTY called (EL ELOH) in Ancient tongues.
Videos
Why the book Black and Mormon?
The controversy is not just about being Black and in the Mormon or LDS religion, it's about the rearranged history of the Black Man that has been propagated as truth about Caucasians. This so-called "curse" is not just a lie but a well crafted tool to advance White Supremacy.
Books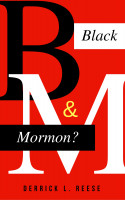 Black and Mormon?
by

Derrick Reese
After my family and I converted in 2015 I explain the reason for our departure from the LDS church after a year and a half of membership.
Derrick Reese's tag cloud