The Stiletto Writer
Biography
For more than 40 years the author has been what some might consider – overly sexually active. She was previously married, but by choice is single, because of the lack of sexual excitement in her marriage and her partner's unwillingness to explore. She has been in an open relationship with her present partner for more than 10 years now and finds that the openness has led to more trust and sexual excitement. And while there is an agreement for an open relationship, because they have been able to experience things together that some couples would not, they have not exercised this agreement but 3 times.
Where to find The Stiletto Writer online
Books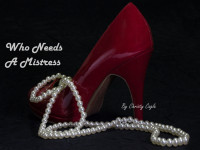 Who Needs A Mistress
by

The Stiletto Writer
Role Play, Rough Sex, Spontaneity - Women have such boundless sensuality, even when they do not know. Tapping into that goldmine will unearth riches that any male would be glad to call his own. To be able to bring the excitement into everyday sex and turn the mundane into magic. It doesn't have to be the greatest sex. It doesn't have to reinvent anything, just make it hot and bold.
The Stiletto Writer's tag cloud