John Navarro
Biography
My name is John M. Navarro. I am a native of California. I have been in the Finance and Real Estate Industry for over twenty five years. I graduated from Sacramento State University not an Ivy League Institution and I am not well-known, except amongst the families whose homes I have saved for now. Unfortunately, all the contacts that I have made have failed to move forward even when they agree that my information can make a difference. My livelihood has been put at risk since 2007, because of all the time I have invested in trying to communicate how I can assist our government in resolving this housing crisis. I am a passionate and committed citizen of this country who is deeply troubled by what I continue to learn and see happening in our financial realm and the impact on every American citizen. I am writing this on behalf of those American families and friends that I cannot help without the necessary support.
I have had a working solution for the housing crisis for more than five years. Regrettably at the point when you receive this guide we know that millions of families… likely some of your friends, neighbors and relatives have already lost their homes. The very tragic part is that they did not have to. The resulting domino effect continues and no one is immune. This housing crisis needs to end... Americans need a REAL solution! Finding one that works for everyone would seem an incredible task, yet I am here to say, IT IS POSSIBLE. Here at CSRS my team and I have found just such a solution. I am offering my discoveries of the last twenty five years and my services …
Books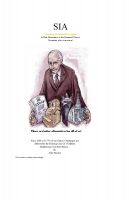 SIA: A Simple Financial Fix For America!
By
John Navarro
Price:
$11.00 USD.
Words: 10,770. Language: English. Published: November 18, 2012. Category: Nonfiction
SIA: Time for America to Stop, Take Part and Rethink… The SIA Solution, was written to determine ones Financial & Credit Solution, yet, it goes far beyond a mere financial calculation for household expenses. It builds understanding and a blueprint for long term financial decision making. In addition SIA holds a bigger meaning: Standing Independent Again. Understanding money management and more...
John Navarro's tag cloud