Third Press
Publisher info
Third Press was started to create affordable electronic books for new readers. When my son first started to read, there were very few books available that focused on sight words (otherwise known as Dolch Words, Fry Words or high-frequency words). These words are important for children to practice because mastering these simple, common words means they will read faster and enjoy reading more.

I tried to find some inexpensive, easy readers for the Kindle that emphasized sight words but didn't find many... which is why I created the Easy-Peasy Series. These books are designed to focus on simple words and to repeat them frequently in the story. Then, to ensure the child can actually read the word (and hasn't simply memorized the story) sight word flash cards are included for all of the words book. The result is an engaging story that even a beginning reader can enjoy reading "easy-peasy" (his phrase, not mine)!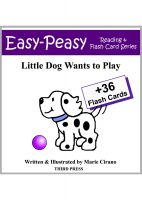 Little Dog Wants to Play
by

Marie Cirano
With simple words, cute pictures and practice flashcards, this book is a great way to get your child started with reading. Over 90% of the words in this book are either sight words or sight nouns (also known as Dolch sight words, Fry Words, high-frequency words or sometimes star words). Other words used in the book are familiar words that will be easy for your child to sound out.
Third Press' tag cloud