Thomas Jones
Biography
Thomas Jones is the pseudonym of a well educated male, now retired and spending time traveling to some exotic places in the world, currently visiting Far EastThese stories were written over the years and were meant for private enjoyment till I learned about Smashwords.
I believe that a well-written erotic story must tell a story that titillates the reader, by leaving most of the action to his or her imagination instead of describing it in detail like a porn movie in print. I call such stories ribald stories as distinct from erotica.Milder versions of ribald stories used to appear in some respectable magazines till recently. Unfortunately Smashwords or any other such publisher or reviewer has no such category. So I am listing these stories as erotica while using the tittle to indicate their true nature.
Books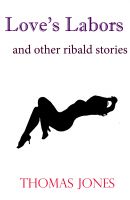 Love's Labors and other ribald stories
by

Thomas Jones
A wife who would go to any length to improve her husband's libido; a couple who find sexual fulfillment even when they are separated by hundreds of miles; a lover hiding in a closet finds a closet-mate; two couples vacationing in a secluded beach-house discover that too much fun and sex could lead to unexpected situations and a husband and wife team try to entice rich men for blackmail.
Thomas Jones' tag cloud