Thomas Lankenau
Biography
Thomas Lankenau was born in Buenos Aires, Argentina to a diplomat father. He completed his undergraduate degree at Xavier University in Ohio, and his graduate degree at Mt. St. Mary's in Maryland. He worked in the biological sciences for many years then became a consultant until his recent retirement. Khakhanate (Books I and II) a project requiring twenty years to complete, is the product of his love of history and anthropology. He resides in Northern Virginia.
Books
Khakhanate Book II The Crow
by

Thomas Lankenau
(5.00 from 1 review)
The Crow continues the sweeping saga of the Mongol conquest of America. As the Mongol Khakhanate continues its inexorable expansion into the southern landmass, a young man called The Crow comes of age among the Cherokee. Grandson, nephew and cousin to Khans, he holds no rank of his own. Both idealistic and rebellious, he soon runs afoul of the powerful Khans.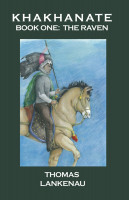 Khakhanate Book I The Raven
by

Thomas Lankenau
(5.00 from 2 reviews)
The race who conquered the known world...meets the New World. In the last days of the Yuan Dynasty, a visionary Mongol leader struggles to save his command from destruction awaiting Mongols in a convulsing China. A shaman from a northern tribe describes a land of endless prairie and scattered tribes far to the east across frozen seas. Can this be their salvation? Thus begins Book One, The Raven.
Thomas Lankenau's tag cloud