Thomas Rochester
Biography
Thomas Rochester was born in the UK in the1950s and educated in London. He has enjoyed a working life spanning some forty years, which has taken him from one side of the globe to the other, doing what he does best; writing. His expertise has opened doors for him in advertising and script-writing, and he is also a published author.
Divorced with three children, now all grown up, he spends most of his time — when not writing — doing the other things he enjoys; watching football and movies. He also has a great affection with South East Asia and plans to write about Hong Kong, a city he is particularly fond of.
Sin Café is his first excursion into the world of erotic literature.
Books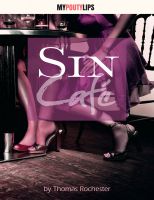 Sin Café
by

Thomas Rochester
Sin Café is a place where you can go to live out your deepest fantasies, where no one knows or cares what your name is, or what you do. There begins the escape from reality. For Lucy, dour, dutiful and dull housewife, her visit to Sin Café starts an adventure that brings lust, excitement and passion into her life, which is about to change, perhaps forever. You'll be surprised what's on the menu.
Thomas Rochester's tag cloud