Tom Williams
Biography
Tom Williams was born in August, 1961 on the Gulf Coast. His experiences growing up in Clearwater, Florida influenced his writing style as well as provided him with stories steeped rich in Florida culture. During his time in the United States Military he was afforded the opportunity to travel widely. His studies include anthropology, viticulture, & sociology. Before Tom became a writer he worked as a well sought out fly fishing guide, in the computer industry, real estate, and culinary fields. Discovering a talent for writing in his 40's he is passionate about his stories and thoroughly appreciates all the help and support he has received along the way. He lives with his wife and youngest son in the beautiful Blue Ridge Mountains located in Southwest Virginia. When not busy writing, Tom enjoys spending time with his family, canoeing, fishing, woodworking, and working in the vineyard him and his wife own.
Books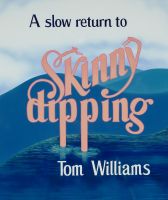 A Slow Return to Skinny Dipping
by

Tom Williams
(5.00 from 3 reviews)
What if your so called amazing life came crashing down one dark rainy day in a NYC penthouse? For years you had worked extremely hard in a prof. career with all the rewards of success,only to realize you were chasing the wrong things in life. Ellie Jackson decides to take a much needed break, head for sunny FL. to figure out what's really important & discover A Slow Return to Skinny Dipping.....
Tom Williams' tag cloud