Tia Cristy
Biography
I'm Tia Cristy; Radio personality, with what I thought was a ton of useless information, until I wrote it for a magazine and people read it. I still pondered the reason for having this vast knowledge for how to get a stain out of that, or how to get the right solution for this... until, family and friends started calling asking for a tip on a problem they had. So now, I'm bringing it to Tipsfromtia.com; a place where you can trust the tip you're given, and not rely on a dozen different answers. It's like the tip your grandmother would give you, it may be your grandmother's tip,but with more appeal! I tried most of the tips before I pass them on, because I would like Tipsfromtia.com to be a source you trust. Remember, looking good; feeling good.
Where to find Tia Cristy online
Books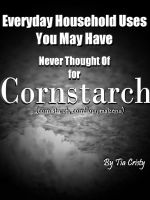 Everyday Household Uses You May Have Never Thought Of for Cornstarch
by

Tia Cristy
Learn helpful tricks and uses for Cornstarch around the house, not just in the kitchen anymore. Tip expert, Tia Cristy from, "Tips from Tia" has released the edition of "Household Uses You May Have Never Thought of"... on "Cornstarch".
Tia Cristy's tag cloud