Mathew Ortiz
Biography
Born a military brat, I've traveled a bit of the world and enjoyed every bit of it. After finishing my Bachelor's in Nursing, in which I wrote page after page of research material, I thought why not write something for fun? I have been an avid reader since I was a child and a natural born story teller all my life. When not writing or working as a Recovery Room nurse, I am an avid fan of any DIY show, British sitcoms and any documentary on haunted houses. I currently live happily with my husband Tim, a spoiled pug Ollie in the sunshine state.
Books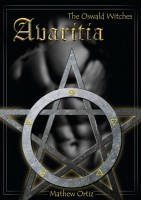 Avaritia: The Oswald Witches
by

Mathew Ortiz
Night and day, oil and water. Rush Harrington and William Oswald Blackthorne clashed from the moment they met. Thank goodness a desk kept them apart. Fate however had other ideas. Drawn to each other despite their differences can the two find common ground. Especially when one has a momentous secret?
Mathew Ortiz's tag cloud