Tina Bui
Biography
Working for someone was not my preferred career. After 5 years of working for my boss, I resigned. I've always dreamed to have business in Real Estate. I bought my first home after only nine months of stay in Australia. I have obtained all necessary experience relating the property investment like Negative Gearing, Capital gain tax, Self-manage super fund etc. Armed with all unique experiences, I started my property investment immediately. I bought investment property almost every two years. Eventually, I got in to real estate career in 1983 and operated my own business in 1985. I have detailed all twist and turn on how I became a real estate agent and how I owned the real estate office in my book. In the middle of 2008, I sold my real estate business - I started my semi-retirement and worked from home. I only work when I feel like. I have a steady and growing income so I can live luxurious life for the rest of my day without worries.
Books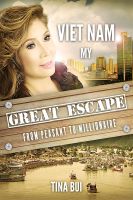 Vietnam My Great Escape
by

Tina Bui
My name is Tina Bui, I was born and raised in Vietnam. I came to Australia more than 38 years ago after escaping three days before the fall of Saigon, which ended the Vietnam War. To be born and raised in the war torn country of Vietnam, life was not an easy one.
Tina Bui's tag cloud