Tina Paul
Biography
Tina Paul lives life with a passion and delights in creativity. She was born in India, grew up in Canada and has travelled extensively through both countries. 'A World Outsourced' is her first fictional novel and she immensely enjoyed the whole process. The idea for this novel came to her in studying a business trend. Lots of companies outsource some of their work overseas, often to companies in India which made Tina think if they can outsource so many professional services to India, then it may be cost effective to outsource governments around the world to a company in India. Into the fabric of this premise, Tina wove a host of delightfully entertaining characters and added a dose of humor to try to bring the gift of laughter to her readers.
Books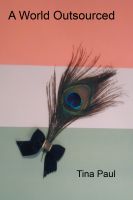 A World Outsourced
by

Tina Paul
(5.00 from 2 reviews)
The wildly hilarious and endearing Harry teams up with uptight and cheap Chander to set up a business in India to run the affairs of Canada for a fee after disgruntled Canadians vote to outsource their government. Much to one parent's chagrin, Chander's daughter, Rosie, and Harry's son, Maninder, fall in love. Comical escapades ensue as Maninder tries to woo Rosie and impress world leaders.
Tina Paul's tag cloud