Edwin Melendez, Sr
Biography
Edwin Meléndez Delgado: Empresario, líder comunitario. Posee un bachillerato en Administración de Empresas, una Maestria en Administración de Empresas con concentración en Administración Global y se encuentra finalizando su Doctorado en Administración de Empresas estratégica. Es CEO de PR Global Financial Investment y dueño de IFLAITOS pequeña empresa de casa de brincos. Ha realizado labor comunitaria con personas que viven con VIH. En su trabajo de activista ha ofrecido conferencias en Finlandia, Texas, Florida, Washington DC y NY.
Carlos Santiago Santiago: Maestro de teatro, actor, escritor y director teatral. Posee un Bachillerato en Teatro y Educación, también una maestría en Educación de la Bellas Artes en Teatro y cursa estudios Doctorales en currículo y enseñanza en arte y cultura. Ha laborado como maestro de teatro para el Departamento de Educación de PR por los últimos 18 años a nivel elementa. Ha laborado por más de 30 años en el quehacer teatral, tanto en dramas, comedias, musicales, zarzuelas, operas, cine, televisión y ballet.
Books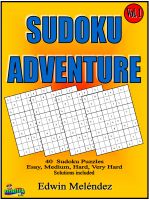 Sudoku Adventure
by

Edwin Melendez, Sr
Sudoku Adventure volume 1 is a printable eBook for playing Sudoku. The eBook contains 40 Sudoku puzzles. The 40 Sudoku puzzles are divided in 4 categories (easy, medium, hard and very hard) each category with ten puzzles. Sudoku adventure volume 1 eBook also has the solutions of the 40 Sudoku puzzles included.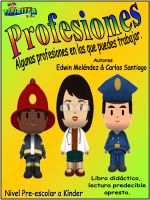 Profesiones: Algunas profesiones en las que puedes trabajar
by

Edwin Melendez, Sr
El libro ha sido desarrollado, evaluado y recomendado por profesionales de educación pre escolar hasta kínder con el propósito de cumplir con los estándares académicos y de currículos educativos. Es un libro didáctico de lectura predecible apresto, para el nivel Pre-escolar a Kínder. Presenta varias profesiones por medio de dibujos Avatar.
Edwin Melendez, Sr's tag cloud